Gemalion
Moonstone Dreamy Bounties Ring
Product Description

Buy With Confidence 

Shipping & Returns - 
About This Ring - 
This ring is as unique as you are! With a huge moonstone set in a bohemian setting, it makes for the perfect gift for any boho goddess.
Whether you're looking to add some celestial beauty to your look or celebrate a new beginning, this ring is sure to make you stand out from the crowd.
Details - 
Authentic 100% Natural Moonstone
Origin - INDIA
925 Pure Sterling Silver
Stone Size - 18X13MM
Cut - Oval
Adjustable Size between 16MM to 18 MM (Fits Majority). Looking for a specific size? Select your Ring size in "US size" from the drop down.
Rhodium E-coated for anti tarnishing
Please Note as with all natural gemstones the color and inclusions may vary slightly from the Piece shown because these are all natural gemstones, and no two Natural Gemstone would ever look exactly the same.
Premium Materials - 100% Natural and ethically sourced gemstone & nickel free metals.
Fair Pricing - 30 Years of Experience In gemstone trading and our inhouse gemstone cutting polishing workshop help us keep the prices as low as possible.
5 Star Customer Service - A dedicated and crystal enthusiast team is always ready to help with any queries you may have for us.
Safe And Secure Payment - Check out with almost any mode of payment, For international checkout choose PayPal express checkout.
Free Shipping for all orders.
The craftsmanship and attention to detail that go into each of our handmade pieces is a work of Art. We believe you'll fall in love with your jewelry at first sight, which is why we Require 3-5 business days before sending out orders.
14 days return policy.
Customer Reviews
Write a Review
Ask a Question
The ring is beautiful. When it catches the...
The ring is beautiful. When it catches the light it has a really nice blue sparkle. The stone itself has imperfections inside but I noticed that from the listing photos before I purchased. It doesn't take away from the beauty of the ring. I would purchase from this shop again. The international shipping to the US was fast.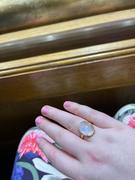 とても綺麗な石です。透明感があり、青く光り...
とても綺麗な石です。透明感があり、青く光ります。 ただ少し欠けている所があったので、交換して欲しいと連絡しました。すぐにお返事をくださり、快く了承していただけました。 コロナのせいか郵便局で今は日本からインドへ航空便を使えないと言われたため、結局交換しないことにしましたが、真摯に対応していただけて良かったです。 ありがとうございました。
This is a beautiful ring. The description...
This is a beautiful ring. The description is spot on and just gorgeous color and great fit
Gorgeous Rainbow Moonstone Ring! Sizing is...
Gorgeous Rainbow Moonstone Ring! Sizing is perfect. I was amazed at the size and weight of the stone itself. It isn't a sliver of Moonstone, it is a stone. Just what I wanted. The ring is well made. I opted for a silver setting. Well thought design and construction of the setting to show off the beauty of the Rainbow Moonstone. The ring is more amazing in person. I was very pleased to receive this ring and find it exceeded my expectation!