Gemalion
Moonstone TearDrop Necklace
Product Description

Buy With Confidence 

Shipping & Returns - 
About This Necklace - 
This necklace channels the moon! This piece will be sure to make you feel like the moon is always shining when wearing it.
Put your best foot forward with the moonstone teardrop necklace. Made of handpicked natural stones, these necklaces also make for great Diwali gifts for loved ones.
Details - 
Authentic 100% Natural Moonstone
925 Pure Sterling Silver
Stone Size - 6X9 MM
Cut - Pear Cut cabochons
Note - Please note as with all natural gemstones the color and inclusions Pattern may vary slightly from the Piece shown because these are all natural gemstones, And no two Natural gemstone would ever look exactly the same.
Premium Materials - 100% Natural and ethically sourced gemstone & nickel free metals.
Fair Pricing - 30 Years of Experience In gemstone trading and our inhouse gemstone cutting polishing workshop help us keep the prices as low as possible.
5 Star Customer Service - A dedicated and crystal enthusiast team is always ready to help with any queries you may have for us.
Safe And Secure Payment - Check out with almost any mode of payment, For international checkout choose PayPal express checkout.
Free Shipping for all orders.
The craftsmanship and attention to detail that go into each of our handmade pieces is a work of Art. We believe you'll fall in love with your jewelry at first sight, which is why we Require 3-5 business days before sending out orders.
14 days return policy.
Customer Reviews
Write a Review
Ask a Question
Absolutely BEAUTIFUL! A bit smaller & more...
Absolutely BEAUTIFUL! A bit smaller & more dainty looking IRL than expected but I adore dainty jewels so this is "so me" very impressed with this shop, really happy to have found it and will be buying MORE as soon as I'm able. Lovely to support small businesses. Gemalion has fast customer service, great presentation boxes & item reached UK within 1 week which is impressive! Thanks a lot for the added gift too, it was very sweet. I'm glad the quality of your moonstones adheres to the advertised photos with beautiful blue iridescence The quality of this stone actually far exceeds that of much bigger famous brands like Astley Clarke or Monica Vinader for example who tend to have more cloudy white looking Moonstones for undesirably inflated prices! I'll be sticking with Gemalion from now on, consider me a new regular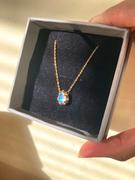 Great quality! Very happy with my purchase
Great quality! Very happy with my purchase
4 stars review from Amber
4 stars review from Amber
5 stars review from Angie
5 stars review from Angie
5 stars review from Tamara
5 stars review from Tamara
5 stars review from lexie1899
5 stars review from lexie1899