Gemalion
Moonstone Fancy Oval Ring
Product Description

Buy With Confidence 

Shipping & Returns - 
About This Ring - 
When you want to feel like a bohemian goddess, there's nothing better than natural crystal jewelry.
These natural crystal rings are handmade and not mass produced like those plastic pieces of jewelry. Look stylish with these unique pieces of jewelry that will complement any outfit.
Details - 
Authentic 100% Natural Moonstone
Origin - INDIA
925 Pure Sterling Silver
Stone Size - 8X18 MM
Cut - Fancy Oval
Rhodium E-coated for anti tarnishing
Please Note as with all natural gemstones the color and inclusions may vary slightly from the Piece shown because these are all natural gemstones, and no two Natural Gemstone would ever look exactly the same.
Premium Materials - 100% Natural and ethically sourced gemstone & nickel free metals.
Fair Pricing - 30 Years of Experience In gemstone trading and our inhouse gemstone cutting polishing workshop help us keep the prices as low as possible.
5 Star Customer Service - A dedicated and crystal enthusiast team is always ready to help with any queries you may have for us.
Safe And Secure Payment - Check out with almost any mode of payment, For international checkout choose PayPal express checkout.
Free Shipping for all orders.
The craftsmanship and attention to detail that go into each of our handmade pieces is a work of Art. We believe you'll fall in love with your jewelry at first sight, which is why we Require 3-5 business days before sending out orders.
14 days return policy.
Customer Reviews
Write a Review
Ask a Question
I recieved my ring from Gemalion in a beau...
I recieved my ring from Gemalion in a beautiful box. It fits me well and is absolutly beautiful! My favorite gem is a rainbow moonstone and this one has that beautiful blue sheen I was hoping for. I hightly recommend Gemalion! Their jewely are beautiful and their service is exceptional. Thank you once again Gemalion ! :) Note: my cameraphotos do the jewelry no justice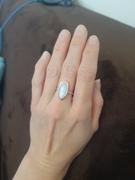 This is such an amazing deal for the quali...
This is such an amazing deal for the quality of the moonstone. There is an inclusion around 1/3 the size of the stone, but the blue flash is still incredibly strong and, for $33, some inclusions are obviously expected. The ring is gorgeous and I want them in the other shapes, too! So glad I found this shop. I will continuously purchase for myself and as gifts for friends and family.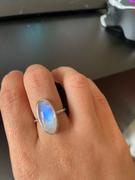 Very nice stone, super flattering on
Very nice stone, super flattering on
5 stars review from jennifer
5 stars review from jennifer